Birmingham, AL, November, 2015– In the November issue, National Geographic called attention to ROI Institute's contribution to sustainability and green initiatives in the business world. The article, 5 Ways to Curb Climate Change, reads:
"In 2009, when MIT's Sloan Management Review first surveyed businesses about sustainability efforts, it found most 'doing only what is necessary to meet regulatory requirements.' Five years later the survey told a different story: Nearly two-thirds of companies said sustainability was at the top of their agendas, which fewer than half had said earlier. What changed? The CEOs' sense of green initiatives' worth, say Patricia and Jack Phillips, authors of The Green Scorecard. 'Today, most (if not all) businesses recognize that climate change is a problem,' they write. 'Smart companies use their environmental strategy to … build competitive advantage.'"
Read the article: 5 Ways to Curb Climate Change
Measuring Return on Investment in Green/Sustainability Initiatives
ROI Institute's effort to help organizations have success with sustainability initiatives is documented in the book, The Green Scorecard: Measuring the Return on Investment in Sustainability Initiatives, a unique publication that shows organizations how to measure the success of green projects using five levels of outcome data.
"About 80 percent of the green projects an organization develops and implements returns a positive ROI for that organization, if it's implemented properly" explains Patti Phillips, President and CEO of ROI Institute, Inc. "The other 20 percent is controlled by regulation."
Issues with Implementing Green/Sustainability Initiatives
The problem is that most projects break down early in the implementation process. Either employees (or citizens, suppliers, or customers) do not see the need for the project, do not understand fully what they must do, or, do not know what they really should be doing. These are our classic Levels 1, 2, and 3 in the ROI Methodology. Ultimately, to improve impact (Level 4) and achieve a positive financial ROI (Level 5), the first three levels must be in place. This informative book provides detailed steps on how this is successfully accomplished.
The Solution
"This new book can serve all types of organizations, including government, non-profit, NGOs, as well as private businesses," adds Jack Phillips, Chairman of ROI Institute, Inc. Even cities, counties, states, and national governments can benefit by ensuring that this publication is available for any individual involved in implementing any type of green project, ranging from re-cycling and energy reduction to water conservation.
---
Involved in Green or Sustainability initiatives? Contact us for a FREE copy of The Green Scorecard!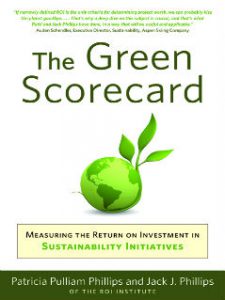 As a special contribution to this important cause, ROI Institute will provide a copy of this book to individuals who want to measure the success of these types of projects. If you are interested in knowing how to evaluate green initiatives with all five levels of data using the ROI Methodology, please provide your contact and shipping information to Anita@Roiinstitute.net and we will gladly send you a free copy.
For more information on this issue, contact ROI Institute at info@roiinsitute.net.
---
About ROI Institute, Inc.
Founded in 1992 as a service-driven organization, ROI Institute assists professionals in improving programs and processes using the ROI Methodology developed by Dr. Jack J. Phillips and Dr. Patti P. Phillips. ROI Institute is the global leader in measurement, evaluation, and analytics, including the use of return on investment (ROI) in non-capital expenditures. Through workshops, consulting services, books and case studies, and research, ROI Institute applies the ROI Methodology in 20 fields in over 60 countries. ROI Institute authors have written or edited over 100 books, translated into 38 languages. Organizations build internal capability with the help of ROI Institute and its ROI Certification process. By successfully completing this process, individuals are awarded the Certified ROI Professional (CRP) designation, which is respected by executives in organizations worldwide. For more information on ROI Institute, please contact info@roiinstitute.net or visit roiinstitute.net.