Measuring the Success of Employee Engagement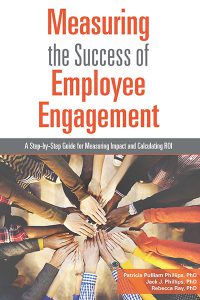 Birmingham, AL, May, 2016– A new book, Measuring the Success of Employee Engagement: A Step-by-Step Guide for Measuring Impact and Calculating ROI, has been published and released by the Association for Talent Management (ATD). Authored by Patti P. Phillips, CEO of ROI Institute, Rebecca Ray, Executive Vice-President of  The Conference Board, and Jack J. Phillips, Chairman of ROI Institute, this new book shows practitioners how to measure the success of employee engagement. Half of the book is devoted to showing how ROI measurement is accomplished and the other half shows examples of organizations doing it often.
"This is our sixth book in a series with ATD on Measuring the Success of series," explains Patti P. Phillips, CEO of ROI Institute. This particular topic is employee engagement. Previous topics are leadership development, coaching, organization development, sales training, and learning through technology. We are very pleased to offer this publication, our 46th with ATD, a long-term publishing partner."
The book is designed in a step-by-step approach to show practitioners how they can measure the value of employees being engaged in their organization. Organizations have invested heavily in employee engagement. The investments began with investing in employee satisfaction in the 50s, and that morphed into organizational commitment, which led to what is now labeled employee engagement. Employee engagement is a very powerful data because it indicates the extent to which employees feel a part of the organization, are actively engaged in decisions of their work, feel responsible for meeting goals, and are willing to share information and help team members be successful. Because of the tremendous investment in engagement, many top executives are asking to see the actual connection between employee engagement and the impact in the organization. In some cases, they are asking for the financial ROI.
"These new case studies show how to measure the ROI of employee engagement" adds Jack Phillips, Chairman of ROI Institute. "This appears to be a mysterious process, but it does not have to be. We unravel the mystery and show you how this is done with four outstanding examples of measuring the ROI of engagement. This type of information should satisfy the appetite for the top executives who often want this type of data."
Of the four case studies, one shows how employee engagement is pushed to employees for their ownership of employee engagement in a home furnishing store chain. Another study shows how employee engagement is tied to a significant bonus. A third case study shows how employee engagement is used to tackle employee retention in a regional bank, and a fourth study shows how the desire to be engaged has become a part of the selection process for an upscale premium hotel chain.
The book can be purchased directly from the publisher, ATD, Amazon, or wherever quality business books are sold. In addition, it is available directly from ROI Institute.
For more information, contact ROI Institute at info@roiinsitute.net or visit roiinstitute.net.
About ROI Institute, Inc.
ROI Institute, Inc., founded in 1992 as a service-driven organization, assists professionals in improving programs and processes using the ROI Methodology developed by Dr. Jack J. Phillips and Dr. Patti P. Phillips. It is the global leader in measurement and evaluation, including the use of return on investment (ROI) in non-traditional applications. ROI Institute regularly offers workshops, provides consulting services, publishes books and case studies, and conducts research on the use of measurement and ROI, making it the leading source of content, tools, and services in measurement, evaluation, and analytics. Working with more than 100 ROI consultants, ROI Institute applies the ROI Methodology in 20 fields in over 60 countries. ROI Institute authors have written or edited over 100 books, translated into 38 languages. Organizations build internal capability with the help of ROI Institute and its ROI Certification process.  By successfully completing this process, individuals are awarded the Certified ROI Professional (CRP) designation, which is respected by executives in organizations worldwide. For more information on ROI Institute, please contact info@roiinstitute.net or visit roiinstitute.net.