Media Contact:                                                                                                                                                                                      FOR IMMEDIATE RELEASE
ROI Institute
350 Crossbrook Drive
Chelsea, AL 35043
Office: (205) 678-8101
Email: Hope@roiinstitute.net
www.roiinstitute.net
Accountability in Human Resource Management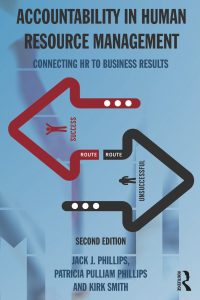 Birmingham, AL, April 2017 – The ROI Institute announces the publication of Accountability in Human Resource Management: Connecting HR to Business Results, Second Edition, by Jack J. Phillips, Patricia Pulliam Phillips, and Kirk Smith, Routledge publishers. We've all read the headlines when various magazines and articles describe why HR should be "blown up," eliminated, or transferred to other parts of the organization.  The basis for these comments is often the fact that most HR projects and programs are not clearly connected to the business and the results are not clearly delivered to the most important stakeholders—the top executives.
"This book is designed to correct that situation with its systematic process, ranging from developing the framework for evaluation to communicating the results, this book is designed to be a standard reference for every HR professional." states Jack Phillips, Chairman, ROI Institute.
"This book can make a difference with HR teams as they clearly connect what they do to the business" adds Patti Phillips, CEO, ROI Institute. "Major HR projects must show the value in terms that executives understand, making the process more accountable and efficient along the way. This also builds critical relationships internally with key clients, business partners, and operating managers.  Now is the time to pursue important and necessary business evaluation for HR."
The book may be purchased directly from the publishers (routledge.com), Amazon, and wherever quality books are sold. Bulk quantities for your entire team are available from ROI Institute.
Dr. Patti Phillips is president and CEO of ROI Institute, Inc., the leading source of ROI competency building, implementation support, networking, and research. She helps organizations implement the ROI Methodology in over 60 countries. Patti serves as Principal Research Fellow for The Conference Board, People Analytics Board Chair for the Institute for Corporate Productivity (i4cp), board member of the Center for Talent Reporting, and ATD CPLP Certification Institute Fellow. Patti also serves on the faculty of the UN System Staff College in Turin, Italy, and The University of Southern Mississippi's PhD in Human Capital Development program. Her work has been featured on CNBC, EuroNews, and over a dozen business journals.
Jack J. Phillips is Chairman of ROI Institute and is a world-renowned expert on accountability, measurement, and evaluation. He provides consulting services for Fortune 500 companies and major global organizations. On three occasions, Meeting News named him one of the 25 Most Powerful People in the Meetings and Events Industry, based on his work on ROI. The author or editor of more than 100 books, he conducts workshops and presents at conferences all over the world. Jack has received several awards for his books and work. He has served on the boards of several private businesses, including two NASDAQ companies, and several nonprofits and associations, including the Association for Talent Development and the National Management Association. His work has been featured in The Wall Street Journal, Bloomberg BusinessWeek, Fortune Magazine, and on CNN.
About ROI Institute, Inc.
ROI Institute, Inc., founded in 1992 as a service-driven organization, assists professionals in improving programs and processes using the ROI Methodology developed by Dr. Jack J. Phillips and Dr. Patti P. Phillips. It is the global leader in measurement and evaluation, including the use of return on investment (ROI) in non-traditional applications. ROI Institute regularly offers workshops, provides consulting services, publishes books and case studies, and conducts research on the use of measurement and ROI, making it the leading source of content, tools, and services in measurement, evaluation, and analytics. Working with more than 100 ROI consultants, ROI Institute applies the ROI Methodology in 22 fields in over 70 countries. ROI Institute authors have written or edited over 100 books, translated into 38 languages. Organizations build internal capability with the help of ROI Institute and its ROI Certification process.  By successfully completing this process, individuals are awarded the Certified ROI Professional (CRP) designation, which is respected by executives in organizations worldwide. For more information on ROI Institute, please contact info@roiinstitute.net or visit www.roiinstitute.net.